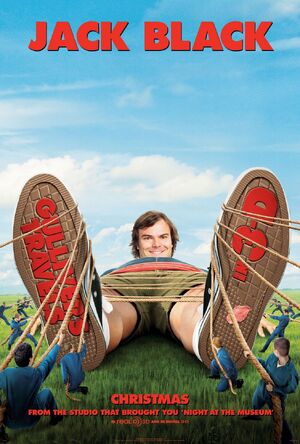 Gulliver's Travels is a live-action adaptation of the book of the same name. The film is distributed by 20th Century Fox and scheduled for release to theatres in 3D on December 24, 2010.
Cast
[
]
T.J. Miller as Dan
Richard Laing as Nigel Travel Writer
David Sterne as Foreman
Stewart Scudamore as Blefuscian Captain
Jonathan Aris as Lilliputian Scientist

Jake Nightingale

as Blefuscian Sentry #1

Okezie Morro

as Blefuscian Sentry #2

Chris Middleton

as Blefuscian Sentry #3

Danni Bennatar

as Glumdaclitch

Bradley Ford

as Boy #1

Noah St. Bean

as Boy #2

Zachary Harris

as Boy #3

Charlize Hyams

as Girl #1

Nieve Stenton

as Girl #2

Raffiella Brooks

as Girl #3

Robert Gilbert

as Mark

Harry Peacock

as Lilliputian Royal Guard

Gemma Whelan

as Lilliputian Rose

Ian Porter

as Business Desk Editor

Stink Fisher

as Construction Worker

Bentley Kalu

as New York Tribune Staffer

Meredith Vieira

as Lilliputian

Joe Lo Truglio

as Butt-crack Man

Christopher Lee Shefstad

as Vendor
Production
[
]
Director: Rob Letterman
Screenplay: Joe Stillman and Nicholas Stoller
Composer: Henry Jackman
Director of Photography: David Tattersall
Producers: Jack Black, Ben Cooley, John Davis, Gregory Goodman, Cliff Lanning
In a January 2010 interview on The Late Late Show with Craig Ferguson, Segel explained his character spends most of the movie in Black's shirt pocket. The movie features 7.1 surround audio in select theaters.
The plot, according to news, centers on Lemuel Gulliver (Jack Black), a free-spirited travel writer who, on an assignment to the Bermuda Triangle, suddenly finds himself a giant among men when he washes ashore on the hidden island of Lilliput, home to a population of industrious, yet tiny, people.