Welcome to Gulliver's Travels Wiki -- your resource about everything in Gulliver's Travels!
Adaptations


Original book

TV miniseries

1977 film

1939 film

Characters
Featured Article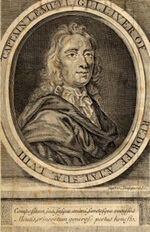 As described in Jonathan Swift's classic novel, Gulliver is not a stand-out as the third of five sons born to a man of very modest means. He is of good and proper, but plain English stock - born in Nottinghamshire, an ordinary county with little in the way of excitement. He is a graduate of Emmanuel College, a respected, but average school. All of the neighborhoods that Gulliver has lived in — including Old Jury, Fetter Lane, and Wapping — are in lower middle-class areas. He is, in all respects, the epitome of the British middle class of his time.

Gulliver is also, as his name suggests, quite "gullible." He tends to believe what people tell him, and typically takes everything at face value.
Read more...