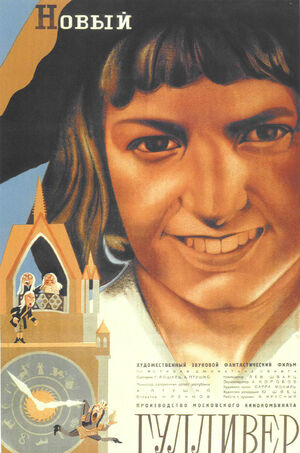 The New Gulliver is a stop-motion animated film from the Soviet Union in 1935. It was one of the first of its kind to make such extensive use of puppet animation, running almost all the way through the film (it begins and ends with short live-action sequences). The part of Gulliver was played by Vladimir Konstantinovich Konstantinov, who was born in 1920 and died in 1944 near Tallinn in the Second World War. This was his first and only film role.
The story, a Communist re-telling of Gulliver's Travels, is about a young boy who dreams of himself as a version of Gulliver who has landed in Lilliput suffering under capitalist inequality and exploitation.
After experimenting with various animation techniques from 1928-1932, including the combination of puppets and live action in the same frame, Ptushko (along with the animation crew he had assembled over the years) began work on his first feature film. Written and directed by Ptushko, The New Gulliver was one of the first feature-length films to combine stop-motion animation with live-action footage (the first few were made by Willis O'Brien, who was responsible for The Lost World and King Kong).
After the film's success, Ptushko was allowed by Mosfilm to set up his own department, which became known as "the Ptushko Collective," for the making of stop-motion animated films. This group of filmmakers would produce another fourteen animated shorts from 1936 to 1938, and a new feature, The Golden Key, in 1939.